The world is now facing the threat of a new nerve war – UN Secretary General
UN Secretary-General Antonio Guterres said in a speech to graduates of Seton Hall University in New Jersey on Tuesday that the world was facing the threat of a "nuclear war" and a new war of nerves with the rise of extreme nationalism. The event has been promoted on the university website.
---
"The dire situation in the nuclear-armed countries, starting with the Middle East, threatens a new war of nerves, the rise of terrorism and sectarian strife and extreme nationalism among countries with old ideologies that ignore the central truth of resolving international problems in the national interest," he said. Guterres also blamed climate change, growing social inequality and the spread of hunger and disease among other threats to the world. He warned graduates that the world they were entering was in danger.
'The conflict and division we are facing has not been seen in decades. Conflict has spread from Yemen to Syria and from Ethiopia to Sahel and beyond. He also referred to the conflict in Ukraine as "the cause of extreme human suffering and death."
On Tuesday, May 24, 2022, He said,
Dear Class of 2022,
As Secretary-General of the United Nations, I feel it is my duty to report that you are entering a world brimming with peril. We face conflicts and division on a scale not seen in decades — from Yemen to Syria, from Ethiopia to the Sahel and beyond. And, of course, the war in Ukraine — a violation of that country's territorial integrity and the Charter of the United Nations — is causing immense human suffering, destruction and death.
It is also exacerbating a food, energy and finance crisis around the world. Meanwhile, the climate crisis is wreaking havoc, and threatening to erase entire communities and even entire countries — with governments failing to take the action needed to turn this around. Poverty, exclusion and inequality are worsening. The gap between the "haves" and "have nots" in every country is widening. Hunger and famine stalk millions. Human rights are under assault. Women are still largely shut out of the halls of power and boardrooms of business. Knowledge, science and expertise are being devalued by conspiracy theories and outright lies. People increasingly mistrust their institutions, their governments — even each other. The misuse of social media is undermining the social fabric. Hate and extremist thought are being amplified across societies — seen tragically, once again, by the outrageous racist massacre in Buffalo ten days ago. Global solidarity is missing in action — from the scandalously unequal rollout of COVID-19 vaccines, to the absence of support to help developing countries recover. And geopolitical fault lines are spreading fast.
From the Middle East…to the threat of a new Cold War with grave nuclear undertones…to terrorism and sectarian fighting within countries rooted in ancient grievances…to an explosion of extreme nationalism that ignores the central truth that international solutions are always in the national interest. Each challenge is another sign that our world is deeply fractured. As I tell world leaders across my travels, these wounds will not heal themselves. They cry out for international solutions. They demand that countries stand with one another within a strong multilateral system. Building a better, more peaceful future requires collaboration and trust, which are sorely lacking in today's world.
Dear graduates,
I do not raise these challenges to darken your special day today. I raise them because it now falls to you, as Seton Hall graduates, to use what you have learned here to do something about it. To live up to your motto, and in the face of peril, go forward in building a better future.
Cardinal Joseph William Tobin, C.Ss.R., Archdiocese of Newark, receiving his honorary degree.
Cardinal Joseph William Tobin, C.Ss.R., Archdiocese of Newark, also received an honorary degree and delivered remarks as well as the Invocation for the commencement. "Today the presence of Dr. António Manuel de Oliveira Guterres, Secretary-General of the United Nations, is a visible reminder of our shared responsibility for using knowledge to work for peace, sustainable development and greater respect for human beings as well as this world, which is our common home," said Cardinal Tobin. "Dr. Guterres reminds us how great are the challenges we face. The presence of these graduates indicate how generous can be our response."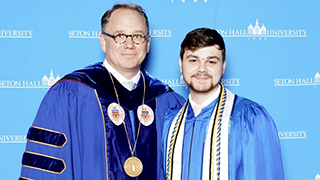 President Nyre with Valedictorian Timothy Georgetti.
The Valedictory Address was delivered by Timothy Georgetti, who double majored in Diplomacy and International Relations and Philosophy. Georgetti recollected the pandemic and suggested that the Class of 2022
…should remember the ways we turned the greatest adversity of our time into a catalyst for growth. Whether it was through holding virtual club events or working with our professors to conduct class on Teams, or using the internet to maintain long distance friendships…. we demonstrated resilience, exemplifying not only Seton Hall's Catholic commitment to community building, but also the essence of our motto: Hazard Zet Forward. And when the gates in South Orange finally opened again, the community we had fostered online, bloomed stronger and more vibrantly than ever.
In addition to an address from the valedictorian, the University traditionally hears from the president of the Student Government Association as well. Julia Nicholls, a Diplomacy & International Relations and Economics graduate, twice served as president of the SGA at Seton Hall. In her speech she addressed the unique set of obstacles that confronted this class of graduates, looked to the future and embraced it.
It is because of the challenges each of us have faced one way or another, that we will get through the next obstacle of post-graduate life. And I know we will. I know this because we have made it this far. We went through a global pandemic, civil unrest, and a million more challenges, yet somehow, someway we made it through to the other side. And if we can graduate college having experienced all of that, we will tackle the next challenge. I promise. Whether you used the lockdown for self-discovery, political violence for advocacy, or isolation for connection, you all grew in a difficult environment and came out on the other side. Just getting to this point deserves recognition. The next obstacles are coming our way, but we will embrace them just like we have done the last four years.